Specifications
Documents
Parts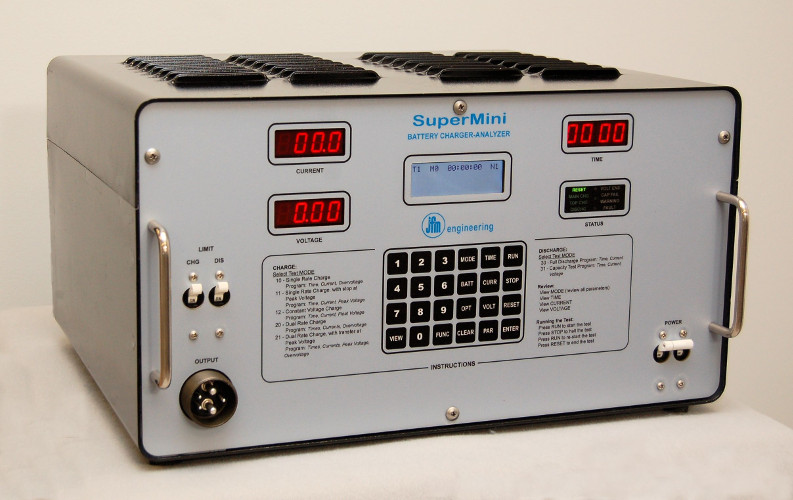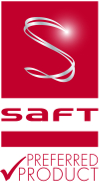 Intelligent

Battery Charger-Analyzer for Battery Systems ( Up to 4

0

A-hr )
The  SuperMini is an instrument designed to charge, trickle charge and analyze ( discharge ) Nickel-Cadmium, Sealed Lead-Acid and other types of rechargeable batteries.
With its multiple modes of operation:  Constant Current Charge ( dual and single rate ), Constant Current & Float Charge, Constant Current & Peak Stop Charge, Automatic Discharge ( analysis ), Resistance Discharge ( analysis ) and  Full Discharge ( deep cycle ).  The SuperMini can satisfy the requirements of most ( Up to 40 A-hr ) rechargeable battery systems.
The instrument features safety interlocks to protect the operator, the charger and the battery in the event of reversed polarity connection, short circuit, open circuit ( no load ) and Over-voltage conditions.
Two large LED digital meters permit the simultaneous monitoring of voltage and current, while eight indicator lights display the status of the operation.
Other features include:
Storage ( nonvolatile ) of battery test profiles
Battery temperature monitoring
Microprocessor based timer with HH:MM and MM:SS timing selection
Interfacing to the BTAS-16 Computerized Battery Test System for monitoring, programming and control
Suggested Accessory:  we recommend the  VCM-100 to simplify the task of testing and calibrating the Charger-Analyzer.
Specifications
Current
Charge: constant current

programmable

: 0 to 2

0.0

A, in steps of

0.1 A

.

Discharge: constant current

programmable

: 0 to 40.0 A, in steps of

0.1 A

.
Voltage
Charge:  0 to 42

 

V
Discharge:  3 to 24 V at full current,

and

up to

42 

V at reduced current ( power dissipation

limited

)
Modes
Constant Current Charge

( all with optional Overvoltage )

    Single Rate

    Single Rate with stop at peak voltage

    Dual Rate

    Dual Rate with transfer at peak voltage

Constant

Voltage

Charge

Constant Current followed by Constant Voltage

Discharge

Constant Current Capacity Test

Constant Resistance Load Capacity Test

Full Discharge
Voltage Control
Adjustable:  Usable from 3.00 to 4

0

.0 V, with an accuracy of

2

% ±

0.

1 V
Meters
Voltage:  3-1/2 digit, LED digital panel meter, 0 to 19.99

V

and 199.9 V scales
Current:  3-1/2 digit, LED digital panel meter, 0 to 199

.

9 A scale for charge and discharge
Controls
24 button keypad to select the Test

Mode

, program the Test Parameters and view status and results
Display
LCD readout with 4 lines x 20 characters
Status Indicators
RESET and CYCLE END

MAIN and TOPPING CHARGE

DISCHARGE

PEAK VOLTAGE

END

CAPACITY FAILURE

END

WARNING and FAULT
Timer
Microprocessor controlled with

HH:MM

and

MM:SS

elapsed time selection
Protection
Battery Over-temp

Battery Temperature monitoring by way of an external cable or Temp-Plate

Overheat

Monitoring of internal Heat Dissipators

Power Failure

Internal rechargeable battery

Current

Microprocessor monitored for over and under current faults
Fusing for Line, Charge output and Discharge output.
Line Voltage
100 – 240 VAC ±10% and 50-60 Hz
Ambient
+5o C to +35o C ( contact factory for extended temperature operation )
Part Number
Included Accessories
Battery Cable:  Cable to connect the Charger-Analyzer to battery under test
Temp-Plate:  Plate which measures the temperature of the battery under test
Single Cell Adaptor:  Short cable with clips to charge a single cell or a group of cells
Fuses and Current Limiter are also included with the charger
Dimensions and Weight
Height: 10 3/4 inches ( 273 mm )
Width: 19 inches ( 483 mm )
Depth: 17 inches ( 432 mm )
Weight: 36.5 lbs  ( 16.5 Kg )
Note:  Specifications subject to change without notice.
Documents
Parts