Specifications
Documents
Parts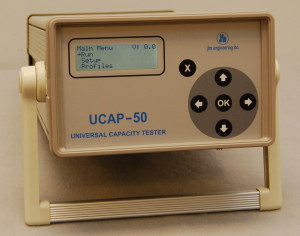 Universal Capacity Tester
The UCAP-50 is universal capacity tester, designed to discharge batteries of any chemistry up to 30 Volts at a rate of up to 50 Amps.
As such, the UCAP-50 is suitable for capacity testing batteries with capacities of up to 50 Amp Hours at their full 1C rate.
Other features include:
Optional hub can be used for the automated discharging and monitoring of up to 8 batteries.
Storage ( nonvolatile ) of battery test profiles
Real time clock
Microprocessor based timer with HH:MM and MM:SS timing selection
Interfacing to the BTAS-16 Computerized Battery Test System for monitoring, programming and control
Interfacing to a computer by way of USB connection
Light weight and portable design.
Specifications
Modes
Capacity test: constant current

programmable

: 0 to 50

.0 

A, in steps of 

0.1 A, with a cutoff voltage programmed in increments of 0.1V.

Discharge: constant current

programmable

: 0 to 50

.0 

A, in steps of 

0.1 A

.

Discharge: constant resistance mode

The UCAP-50 is capable of simulating a constant resistance load.
Controls
Intuitive six button capacitive touch interface.
Display
LCD readout with 4 lines x 20 characters
Timer
Microprocessor controlled with 

HH:MM

 and 

MM:SS 

elapsed time selection
Protection
Reverse Polarity Protection

Immediately warn upon a reverse polarity connection.

 Overheat

Automatic unit shut off upon overheating

Optionally Powered from connected Battery or an External Supply
Current

Microprocessor monitored for over and under current faults
Fusing for Line and Discharge input.
Line Voltage
100 –

 240 

VAC ±10% and 50-60 Hz (When used with external supply).
Ambient
+5o C to +35o C ( contact factory for extended temperature operation )
Included Accessories
Battery Cable:  Cable to connect the Charger to a battery
Fuses and Current Limiter are also included with the charger
Part Number
Note:  Specifications subject to change without notice.
Documents
Parts
Parts